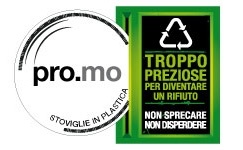 The Pro.Mo. Group (Manufacturer of disposable plastic tableware) has recently published the results of a Life Cycle Assessment (LCA) study carried out in the first few months of 2015. The study compared the environmental impact of different types of tableware in the foodservice industry.
The analysis concerned two items: plates (disposable PP, PS, PLA, cellulose pulp plates and reusable china plates) and cups (disposable PP, PS, PLA, PE coated paperboard cups and reusable glasses).
According to the data collected and analysed by Quotasette srl, the environmental impact of the Life Cycle of polypropylene and polystyrene products (the traditional plastic materials) is lower than the impact of polylactic acid (PLA) and cellulose pulp tableware from the "target" life perspective (the technically applicable solution for disposal at end of life according to the objectives of the European Directive on waste 2008/98/CE). Traditional reusable tableware continue to perform better in terms of environmental impact, but for out of home foodservice the calculation of other variables such as cost, safety and hygiene easily sway the balance in favour of disposables.
The result of the research is not only unexpected but also particularly interesting in terms of the development of a broader, more complex approach to the quantification of the environmental impact of disposable tableware, for which the Life Cycle Assessment is the most effective and complete instrument.
The research was carried out in conformity with standards ISO 14044 and 14040 and subjected to Critical Review by SGS Italia S.p.a, the leading organisation for certification.
For further details you can download an extract of the research from the website www.pro-mo.it